Bad City
---
This book will give you goose bumps!
Dark, atmospheric, and gritty,
this debut novel by Matt Mayr is an
Amazon Breakthrough Novel finalist
"A remarkable portrait of a world gone very wrong, as chilling as prophecy." -- Joan Barfoot, author
Matt Mayr "paints a grim but plausible picture of grinding poverty, endless violence and revenge." -- Alex Binkley, Ottawa Review of Books
---
The aftermath of the collapse of
civilization has an honoured place
in science and speculative fiction.
---
Bad City
In this inventive dystopian read, the future is bleak. Eli Baxter rules South Town with an iron fist, and traitors don't live long. Idealistic and talented thief Simon is desperate to escape — but will a new assignment from Eli hold him back?
Eli Baxter is king, ruling from the thirteenth floor of his building while henchman do his bidding. Simon Gray, a talented young thief, now disillusioned with South Town, is desperate to escape with the woman he loves. As he plots their journey north, glimpses of his childhood in South India and Northern Ontario reveal the world as it once was, fueling his desire to break away. But when he's handed a new job, one that will make Eli untouchable, Simon realizes that escape - and transcendence to love and a peaceful way of life - might be harder than he thought.
---
About the Author: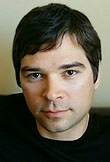 Matt Mayr grew up in a small mining community north of Lake Superior, where he learned to hunt and fish from a very young age. He holds an Honours English Degree from York University, and attended the Humber School for Writers mentorship program twice. He has traveled extensively in India, Nepal, and South America, trekking to Mount Everest Base Camp, and paddling deep into the Amazon Basin. He lives in Toronto with his wife and daughter. [MORE]
---
---
Praise:
"Edgy, violent, wildly imaginative, surprisingly touching. There are ideas and scenes in Matt Mayr's Bad City that even the most jaded post-apocalyptic fan will find fresh, inventive, and utterly breathtaking." -- Craig Davidson, author
"In Bad City, Matt Mayr captures with raw vividness what happens when the surfaces of civilization are peeled away, revealing a sheer will to survive that reduces humans to their ugliest essences. Brutal and grimy as Bad City's post-apocalyptic, dystopian world is, though, there remain hints and tendrils of human longings and even tenderness -– slight sprigs of possibility. A remarkable portrait of a world gone very wrong, as chilling as prophecy." -- Joan Barfoot, award-winning author
"Degrees of blood and violence like a shockwave of radiation, an eternal extension of the darkness that came hard and fast when the river poured into the city." - amazon
---
Reviews:
The Ottawa Review of Books (READ)
---