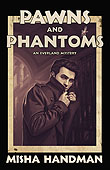 PREVIEW THE BOOK

GENRE:
Urban Fantasy
Mystery & Detective
Contemporary Fantasy


---
KINDLE
KOBO
NOOK
i-BOOK
google PLAY
---
PRINT Amazon.com
PRINT Amazon.ca
---

E-BOOK:
ISBN: 9781770532090
EPUB, MOBI
$5.99 US


---

Paperback:
ISBN: 9781770532106
Trade Paperback
5.5" X 8.5"
$14.95 US
$19.95 CDN
264 pages


---
BISAC:
FIC009060
FIC022010


Pawns and Phantoms (An Everland Mystery)

---
Todd Malcolm would be the first person to tell you that he's no Basil Stark. He's just a bouncer, part-time detective's assistant, and brawler who does his best to get by on the mean streets of 1950s Everland, relying on a keen eye and a quick temper that gets him into trouble as often as out of it. Everland is a dangerous place to poke at secrets. Colonized by corporate interests in the 1930s, it is an island of industry, fading magic, and political and corporate greed.
When Todd gets mixed up in an arson one night and gets fingered for the crime, he's thrown in over his head. With Basil Stark, Everland's premiere detective, caught up in his own problems, Todd is going to have to rely on an eclectic collection of friends and allies to clear his name and untangle a plot of blackmail and murder that threatens to overwhelm everyone that he loves.
Joined by his good friend Glimmer the fairy and Vance Carson, known throughout Everland as 'that other detective', Todd will have to contend with federal agents, angry tigers, murderous mermaids, and shadowy threats at every turn. Does Todd have what it takes to handle this case, or is he just a pawn in a dangerous plot?
---
About the Author:
Misha Handman Born on Vancouver Island, Canada, Misha Handman spent his early life immersed in the arts, with one parent a teacher and the other a manager of theatre and opera. Moving across the country to Ottawa, and then Toronto, he began writing at a young age – first writing comics and designing card games for his closest friends and then, buoyed by their approval, gradually expanding out to submissions to magazines and short story collections, and graduating from the University of Toronto with a classic English degree. [MORE]
---
Reviews:
"I first want to say that this book is an enjoyable and well written "who done it." The storyline kept me guessing, and at times, thinking I had identified the culprit(s). There are, in fact, several mysteries and surprises that are taking place throughout the story, including blackmail, murder, and thievery. The setting to the story is an earth where magic is the norm and the reader is introduced to many characters who are talking animals, fairies, and what not. All the magic enhanced my enjoyment, and even though I was close to identifying the bad guys, I was only close." -- RT, amazon
"The author combines noir mystery and Neverland. Two of my favorites and though my hopes were high, I absolutely loved every moment of reading this. The characters are believable and entertaining. I can't wait to see more of them all! The action moves along quickly and leaves you both engaged and guessing what will happen next! The mystery is complex enough to keep you interested, but not so much that you don't believe it. I did not want to put the book down!" -- Christina Theresia Frøkjær
"... such a good mystery novel, I was able to finish it asap as I was really hooked on what I was reading. ... I hope to read more in this universe." -- Kathryn, amazon
---
Books in the series:
Shadow Stitcher (Book 1)
Pawns and Phantoms (Book 2)
---