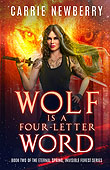 PREVIEW THE BOOK

GENRE:
Urban Fantasy
Paranormal Fantasy
Romance
Werewolves and Shifters
Contemporary Fantasy


---
KINDLE
KOBO
NOOK
i-BOOK
google PLAY
---
PRINT Amazon.com
PRINT Amazon.ca
---

E-BOOK:
ISBN: 9781770532069
EPUB, MOBI
$5.99 US


---

Paperback:
ISBN: 9781770532076
Trade Paperback
5.5" X 8.5"
$15.95 US
$20.95 CDN
288 pages


---
BISAC:
FIC009060
FIC009050
FIC009090


Wolf is a Four-letter Word
(Book Two of the Eternal Spring, Invisible Forest series)
---
What do you do when the nightmare is real? That's the question facing Kellan Faolanni in Wolf is a Four-letter Word, the second book of the Eternal Spring, Invisible Forest series.
Following the betrayal of her sister at the end of the previous book, Kellan Faolanni must set aside her own emotions and thwart an enemy who seems to have the upper hand at every turn.
Kellan, a member of a secret society called the Sankhain, is a shapeshifter, half-wolf, half-human. Kellan's superiors have discovered a man killed by what appears to be a wolf pack, a rare sight in modern-day Madison. The Sankhain task Kellan to investigate and discover who seems to be leaving this message for her. Meanwhile, Kellan's friend, Darcy Jameson, a human with no ties to the Sankhain who was also victimized by Kellan's sister, reveals to her that he's being stalked. Kellan learns that the killer and Darcy's stalker are one and the same: a faery named Aza. But Aza is a high-ranking member of the Shadow Court, and to kill him would start a war with the fey, a war that Kellan's superiors want to avoid at all costs. Kellan must find a way to eliminate the threat and save her friend. Her solution could cost her everything, including a new relationship with another Sankha, Tony, as well as her sanity.
---
About the Author:
Carrie Newberry studied creative writing at both the University of Wisconsin-Madison and UW-Eau Claire. But when she realized they would no longer let her take writing workshops for credit, she left academia and started work full time at a dog grooming shop. She lives in Madison with a dog who sings along with the radio, a cat who talks in her sleep, and an enormous collection of books. Also the author of Pick Your Teeth With My Bones, the first book in the Eternal Spring, Invisible Forest series, Carrie is hard at work writing Kellan's next adventure. [MORE]
---
Reviews:
"Wolf is a Four-Letter Word by Carrie Newberry is a well-developed shifter adventure. The plot includes action, romance, and suspense. I liked the setting, which alternated between human settlement and the forest haven of Sankhain Academy. ... If you love shifter action, this fantasy will deliver your next dose of excitement." -- Cecelia Hopkins for Readers' Favorite
"Wolf is a Four-letter Word immerses readers in a magical world hiding in plain sight, with an unexpected heroine who practically forces you to love her, and an emotional reminder that sometimes the strongest of us need the most care.  This is an imaginative, funny and heartfelt adventure you won't want to put down." – Nora Murray, author of Kingdom Come
"While Wolf is a Four-letter Word is the second book in a series, it surprised me how easily I was caught up in a non-stop diverse world through the spirit of the fiercely independent, brave shapeshifting character, Kellan and her dog Galen. The story flows easily and treats traumatic events with sensitivity and intelligence." – Sharon Grosh, Lazarus Rising and Capturing The Butterfly
"Newberry builds a vibrant and intriguing world, reminiscent of Butcher's Dresden Files, full of fey, shapeshifters and magic, seen through the eyes of an earthy, edgy protagonist. This second installment continues to breathe life into a world that promises to entertain for years to come." – JR Konkol, author of Gathering the Fallen
"Read this book in 3 settings. The characters are so real you can almost see, hear and smell them." – suzie60, amazon
"Really enjoying this series!" -- Rachel Joi Maples
".... Imagine my surprise when I found a fantastically great writer in a type of book I almost never read (fantasy). ... I could not help but be impressed by the craftsmanship and polish of a great story written by a truly professional up and coming author." -- Bruce S.
---
Books in the series:
Pick Your Teeth with my Bones (Book 1)
Wolf is a Four-letter Word (Book 2)
---