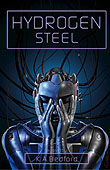 Read Chapter One

BISAC:
FIC028000

PRINT BOOK:
ISBN: 978-1-894063-20-3
Trade Paperback
5.5" X 8.5"

$16.95 US
384 pages



AMAZON.COM
AMAZON.CA

E-BOOK:
e-ISBN: 978-1-894063-81-4
$4.99 US



KINDLE
NOOK (TBA)
i-Pad (TBA)
KOBO
SONY READER (TBA)

E-BOOK (multi-format):
SMASHWORDS (TBA)

Hydrogen Steel
Aurealis Award Finalist...
Aurealis Award

FINALIST
When retired top homicide inspector Zette McGee, late of Winter City, Ganymede, gets called out of her mysterious retirement to help Kell Fallow, a desperate former android accused unjustly of murdering his wife and children, she knows she has to help him, for Zette has a secret she is desperate to keep, and Fallow knows all about it.
With the help of her best friend, the elderly but very suave former secret agent Gideon Smith, and his ridiculously impressive personal starship, the Seemed Like a Good Idea at the Time, Zette sets out (a) to help the accused man, but also (b) to keep Gideon from finding out her own awful secret, even as everything they learn in the investigation keeps pointing to it.
But when Kell Fallow is killed by a bomb he didn't know was buried in his guts, and when a homebrew android identical to Zette destroys her home on the luxurious Serendipity habitat, Gideon and Zette go on the run, only to run afoul of sabotage, spies, nasty infections, and bad guys galore and ordinary machines come to relentless, murderous life.
The case will take Zette and Gideon on a terrifying journey into the darkest reaches of human space, in pursuit of an ancient truth — and will bring her into deadly contact with that truth's keeper, the awesomely powerful firemind, Hydrogen Steel, an artificial consciousness evolved far beyond its original design, and which is utterly determined to keep that same truth from getting out, at any cost.
Hydrogen Steel is a tense and thrilling mystery within a mystery, a tale of secrets and truth, and a journey to the limits of existence — and a bit beyond!
About K. A. Bedford
K. A. Bedford was born in Fremantle, and attended both Curtin and Murdoch University in Perth where he studied writing, theatre, and philosophy prior to his becoming actively involved in the Australian SF community. HYDROGEN STEEL is his third novel. He lives with his wife, Michelle, near Perth, Western Australia. [MORE]
---
Praise:
"Like several Australian authors in this genre, K.A. Bedford's three novels are selling very well overseas, and he is gaining a strong reader following there, so much so that he was doing autograph sessions at LaconIV, the 2006 Worldcon.&quot - Edwina Harvey, Australian reviewer
"Hydrogen Steel is an enjoyable read, littered with powerfully godlike Fireminds (the Hydrogen Steel of the title), complex technologies, action and noir mystery. The characters are believable and sympathetic, the setting is intricately planned out ... It's not surprising that Hydrogen Steel was nominated for the Aurealis Awards for 2006." - Liz Grzyb, editor Ticonderoga Online
"If you're looking for a bit of a space adventure, an exploration of self and identity and a hint of romance, Hydrogen Steel will be a pleasant way to spend a rainy afternoon." - Alisa Krasnostein, AsIF
"Hydrogen Steel is a highly readable and entirely convincing book. The reader is drawn immediately into the reality of Zette's first person narration, and shares her experiences as they unfold." - Lucy Schmeidler, reviewer
"Bedford amasses plenty of high-flown SF concepts. (I particularly like his notion of turning whole planets into computers ...)." - Paul Di Filippo, SCI FI Weekly
"As always, Bedford mixes some serious issues with the adventure -- in this case, the uncomfortable moral and ethical questions posed by disposables, cheaply produced tech that looks and sounds human but is not engineered to have actual consciousness.... Hydrogen Steel is a rousing good read that should satisfy Bedford's existing fans and win him many new ones." - Victoria Strauss, SF Site
"Hydrogen Steel, is a fun, fast paced adventure. Most interesting to myself is the protagonist's pondering of her consciousness relative to that of her less sophisticated "cousins", the worker disposables...is she actually a hyped-up model or are they a suppressed version?" - Ralph Briggs, Yet Another Book Review site
"It's rare to see a genuine mystery embedded into the rich fabric of a science fiction setting, but HYDROGEN STEEL accomplishes both... You won't find many more science fiction titles holding so much gripping mystery action and twists of plot, making Hydrogen Steel a top pick for both science fiction and mystery..." - Diane C. Donovan, California Bookwatch
"Hydrogen Steel continues to describe the dark and forbidding universe of K. A. Bedford, briefly referencing events in his earlier novels, Orbital Burn and the award-winning Eclipse.... All in all, it's not surprising that Hydrogen Steel is a finalist for Australia's Aurealis Award (Eclipse won it in 2006, and Orbital Burn was a finalist in 2004)." - Dru Pagliassotti, The Harrow
"This hybrid detective novel takes place in a far future human-colonized, galactic space and contains some elements of hard SF. Its potential critical interest may lie in its contribution to robot/AI fiction. However, its very self conscious speculation about the nature of humanity offers little beyond that found in Capek's R. U. R. Narrated in the first person by the (female) android police detective, the novel does alter the strategy of Dick's related text, Do Androids Dream of Electric Sheep. The novel interrogates the treatment of androids as things, a practice found, of course, in human slavery and engages, albeit in a minor way, the issue of postcolonial identity: not only is McGee's Australian "identity" a programmed fiction, she discovers entire rogue colonies of self-conscious disposables. Of interest to libraries specializing in Australian popular culture and "other" SFs." - Amy Ransom, The SFRA Review
"I would really recommend Hydrogen Steel to fans of the Science Fiction genre and, possibly, to readers looking for stories more realistic than they typical Star Wars book. Bedford has crafted a strong Science Fiction title filled with excellent dialogue, action at every turn, a compelling story, a dash of philosophy and somewhat surprising ending." - Tim Adamec, The Dragon Page
"Adult/High School — Hydrogen Steel features a main character who has only recently figured out that she's a machine. As she spirals into an identity crisis, she wonders which of her memories were implanted and whether an android is worthy of love. The story takes off when an old friend arrives with a bomb in his stomach. This novel covers much of the same terrain as Phillip K. Dick's work, including Do Androids Dream of Electric Sheep? Bedford's novel features a similarly vulnerable and confused protagonist, reality is fluid, and no one can quite say what it means to be human. But he also offers a more humane take than Dick ever gave his subjects, with characters who are amiable and sane compared to Dick's usual misanthropic outcasts. Action is nonstop, and there are endless plot twists in this satisfying story. Bedford makes the far-out seem familiar: spaceships have make and model numbers, interplanetary travel can be done business class. This familiarity brings readers back to the story's heart. These people may be enhanced with robotics and nanocomputers, but they're really not so different from us. The author builds a well-realized portrait of someone trying to understand who she is, something that will resonate with almost any teen." - Emma Coleman, Berkeley Public Library, CA
"Hydrogen Steel's mission is to prevent any release of information regarding how the Earth disappeared years before. There wasn't any rubble from its destruction, just "poof." Another firemind, Otaru, finds out the truth, but knows that it will not survive the expected battle with Hydrogen Steel.
This is a gem of a novel. It's a really good mystery/thriller; how does anyone deal with an entity that can reach into your DNA, and do something nasty? It's also quite mind blowing, and is very much worth reading." - Paul Lappen, Amazon.com
"It's rare to see a genuine mystery embedded into the rich fabric of a science fiction setting, but Hydrogen Steel accomplishes both in the tale of a retired homicide inspector Zette, called out of retirement to help a former android accused of murder. Her attempts to save Kell will endanger her own closely-held secrets and leads to personal danger when Kell is killed and her home is destroyed. You won't find many more science fiction titles holding so much gripping mystery action and twists of plot, making Hydrogen Steel a top pick for both science fiction and mystery lending libraries." - Diane C. Donovan, California Bookwatch/Midwest Book Review
"Retired homicide inspector Zette McGee is living on the luxury habitat Serendipity hiding the fact she is a "disposable", An android provided with the memories of a human.. When she receives a call from Kell Fellow, another like her accused of killing his wife and children. Before hr can reach her, an internal bomb blows him up and sets Zette and her best friend on a search for the truth. But when her home I destroyed by a home brewed android identical to her. She and her friend, Gideon Smith escape, only to find sabotage, spies, nasty infections in both wetware ,and hardware,, bad guys, and bad machines out to get them. The journey brings them face to face with the awesomely powerful firemind, Hydrogen Steel.
Bedford writes a heck of a good book. Fully realized characters, and world, all the action you could wish for, and lots and lots of Ideas and concepts to occupy the mind. This is a must have , a go get it now book everyone will enjoy." - Pam Allan, ConNotations
---
Reviews:
AsIF! (website)
Lucy Schmeidler Reviews
California Bookwatch
The SFRA Review
School Library Journal
Midwest Book Review
---
Other Books by K. A. Bedford: