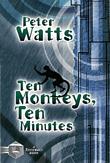 BISAC:
FIC029000
FIC009540

PRINT BOOK:
ISBN: 978-1-895836-74-5
Paperback
5.0" X 7.5"

$11.95 US
167 pages



AMAZON.COM
AMAZON.CA

PRINT BOOK:
ISBN: 978-1-895836-76-9
Hard Cover
5.25" X 7.75"

$23.95 US
167 pages

AMAZON.COM
AMAZON.CA


Ten Monkeys, Ten Minutes
Short story collection...
In this collection of short stories from best selling author Peter Watts, enter strange new worlds that defy the imagination. Journey to the depths of the ocean floor with genetically engineered human beings ... push the boundaries of life with a scientist obsessed with death ... and watch as sentient gaseous entities offer destruction and salvation to the human race. Nine stories make up this stunning new collection from a rising talent in the field of Science Fiction.
About Peter Watts
Dr. Peter Watts has spent much of his adult life trying to decide whether to be a writer or a scientist, ending up, he says, as a marginal hybrid of both.
He is best known for his Rifters Saga, a trilogy which is composed of Starfish, Maelstrom, and Behemoth. Starfish netted a "Notable Book of the Year" nod from the New York Times, as well as an honorable mention for the John W. Campbell Memorial Award. [MORE]
---
Praise:
"Watts wants us to look outside our comfortable circle of light and make the best judgment that we can with our uncertain intellects. Itís a message worth heeding." — James Schellenberg, Challenging Destiny