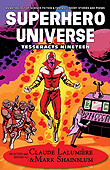 Reading Sampler (PDF)

GENRE:
Anthology
Science Fiction
Fantasy


---
KINDLE
KOBO
NOOK
i-BOOK
google PLAY
---
AMAZON.COM
AMAZON.CA
---

E-BOOK:
ISBN: 9781770530881
EPUB, MOBI
$5.99 US

Paperback:
ISBN: 9781770530874
Trade Paperback
5.5" X 8.5"
$12.95 US
288 pages


---
BISAC:
FIC003000
FIC009040
FIC028040


Superhero Universe (Tesseracts Nineteen)
---
Twenty-four short stories and one poem featuring:
Superheroes! Supervillains! Superpowered antiheroes. Mad scientists. Adventurers into the unknown. Detectives of the dark night. Costumed crimefighters. Steampunk armoured avengers. Brave and bold supergroups. Crusading aliens in a strange land. Secret histories. Pulp action.
Superhero Universe (Tesseracts Nineteen) features all of these permutations of the superhero genre and many others besides!
Edited by Claude Lalumière and Mark Shainblum, Superhero Universe (Tesseracts Nineteen) features some of Canada's best fantasy and science fiction writers:
 
John Bell, P. E. Bolivar, Kevin Cockle, Evelyn Deshane, Marcelle Dubé, Chadwick Ginther, Patrick T. Goddard, Kim Goldberg, Geoff Hart, Sacha Howells, Arun Jiwa, D. K. Latta, Michael Matheson, Bernard E. Mireault, Luke Murphy, Brent Nichols, David Perlmutter, Mary Pletsch & Dylan Blacquiere, Jennifer Rahn, Corey Redekop, Alex C. Renwick, Jason Sharp, Bevan Thomas, Leigh Wallace, and A. C. Wise.
---
About the editors:
Claude Lalumière has edited thirteen previous anthologies, including one prior volume in the Tesseracts series (the Aurora nominee Tesseracts Twelve: New Canadian Fantastic Fiction) and two other superhero anthologies, including Super Stories of Heroes & Villains, which was hailed in a starred review by Publishers Weekly as "by far the best superhero anthology." In addition to being a frequent contributor to Tesseracts anthologies, he's the author of Objects of Worship, The Door to Lost Pages, and Nocturnes and Other Nocturnes.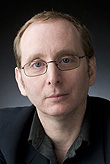 Mark Shainblum was born and raised in Montreal, where he and illustrator Gabriel Morrissette co-created the comics series Northguard and the bestselling humour book series Angloman, which later appeared as a weekly strip in The Montreal Gazette. Mark also collaborated on the Captain Canuck daily newspaper strip and Canadiana: The New Spirit of Canada, a webcomic featuring the first female Canadian flag superhero with her own series. In the late 1990s he co-edited the Aurora Award-winning anthology Arrowdreams: An Anthology of Alternate Canadas with John Dupuis. Mark currently lives Ottawa with his wife Andrea and daughter Maya.
---
Reviews:
"This particular installment of the long-running Canadian SF and fantasy anthology series is a mixed bag of 25 superhero stories ... the strongest works will remind readers why superhero stories remain popular and fascinating." - Publishers Weekly
"Not only is this an excellent bunch of stories, it's also an excellent addition to the superhero universe. There is a lot more to being a superhero than fighting evil." - Paul Lappen
"I would highly recommend this book to any fan of superheroes, supervillains, comic books, or short stories." - P. Dickman, Library Thing
"This was a great introduction into the short story style of writing about superheroes." - Deanna Chapman, Library Thing
"A wild assortment of short stories, on the theme of Canadian superheroes." - J. J. Mcgaffey, Library Thing
"I have greatly enjoyed the Tesseracts series, as I like to read the Canadian point of view which is inherent in the various authors' works; this installment has not disappointed in this regard." - D Mclane, Library Thing
"I have been waiting for this book to come out, I have always enjoyed Tessaracts but lets face it, the Superhero writings are just so "in" at the moment." - amazon review
"Without a doubt, the best story in the book is "The Island Way" by Mary Pletsch and Dylan Blacquiere. It's about family traditions and a long-standing commitment to duty. But there are other great stories here as well. Some of the best are "The Rise and Fall of Captain Stupendous" by P.E. Bolivar, "In the Name of Free Will" by A.C. Wise, "Nuclear Nikki vs. the Magic Evil" by Jennifer Rahn, "Lost and Found" by Luke Murphy, and "Crusher and Typhoon" by Brent Nichols. As a treat, Bernie Mireault revisits his beloved comic book creation, the Jam, and there's even a poem by John Bell that contains a pinch of Kirby Krackle. And in our opinion, you can never go wrong with Kirby Krackle." -- Eric Searleman, Superhero Novels
---
---