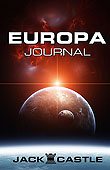 READ CHAPTER ONE

GENRE:
Science Fiction
Action & Adventure


---

KINDLE
KOBO
NOOK
i-TUNES
google PLAY


AMAZON.COM
AMAZON.CA
---

E-BOOK:
ISBN: 9781770530911
EPUB, MOBI
$5.99 US

Paperback:
ISBN: 9781770531048
Trade Paperback
5.5" X 8.5"
$19.95 US
280 pages

Print Paperback:
ISBN: 9781770531062
Trade Paperback
5.5" X 8.5"
$14.95 US
$19.95 CD
288 pages


---
BISAC:
FIC028000
FIC028010


Europa Journal
---
Guaranteed to confound
your expectations!
(200+ REVIEWS on AMAZON)
If you love sci fi, demigods and the mysteries
of mankind, this is a story for you.
"Castle's debut couples an ambitious premise with deliberately humorous prose." - Publishers Weekly
"Definitely worth the read for classic sci-fi fans!" - Coeur D'Alene Press
---
With an action-packed opening, page-turning twists, a well-built world, and characters worth caring about, Europa Journal is like a bulldog - it grabbed me and wouldn't let go! -- Elisa Brinton, Stuntwoman
---
Bermuda Triangle.
Missing World War II Pilot.
Jupiter Ice Moon.
On 5 December 1945, five TBM Avenger bombers embarked on a training mission off the coast of Florida and mysteriously vanished without a trace in the Bermuda Triangle.


A PBY search and rescue plane with thirteen crewmen aboard set out to find the Avengers . . . and never returned.
...and thus the history of humanity
changed foreverÖ
2168 AD: A mysterious five-sided pyramid is discovered on the ocean floor of Jupiterís icy moon, Europa.
Commander Mac OíBryant and her team are among the first to enter the pyramidís central chamber. Inside, they find the body of a missing World War II pilot, whose hands clutch a journal detailing what happened to him and his crew after being abducted by aliens.
As the pyramid walls begin to collapse around Mac and her team, their names mysteriously appear within the journal and they find themselves lost on an alien world.
Stranded with no way home, Mac decides to retrace the pilotís steps. She never expects to find the man alive... but if the man is not yet dead, what would that mean for Mac and the rest of her crew?
---
---
About the Author:
Jack Castle has been labeled by the Coeur D'Alene Press as a "Man of Adventures." He has traveled the globe as a professional stuntman for stage, film, and television. While working as a stuntman for Universal Studios, he met Cinderella at Walt Disney World and they were soon married. After moving to Alaska he worked as a tour guide, police officer and Criminal Justice professor. He was also stationed on a remote military base in the Aleutian Islands and, as a Response Team Commander, his last job in the Arctic Circle was protecting engineers from ravenous polar bears. Jack's novels have been ranked in the Top 100 Bestselling books on Amazon and they are available in e-book, print, on amazon, iTunes and Barnes and Noble. For more info on Jack and his books: www.JackCastlebooks.com [MORE]
---
OTHER BOOKS BY JACK CASTLE:
---
---

Welcome to the EUROPA JOURNAL Booktrailer
---
Reviews
"Castle's debut couples an ambitious premise with deliberately humorous prose." - Publishers Weekly
"Author Jack Castle has an amazingly vivid imagination, and the skill to share it with others through his writing. The alien characters and cultures were amazing." - Dayna Leigh Cheser
"This tale...is definitely worth a read for fans of classic sci-fi, particularly those who miss the days of rubber-suited monster mashes, "Flash Gordon" and the original "Star Trek" series." - Mitchell Bonds, cdapress

Book Review (spoiler alert) by Lizzie Faye Loves Books
---
Testimonials
"I totally enjoyed this novel. It's very easy to read, with heart and emotion along with very alien aliens. It also has lots of action, with a rather high body count by the end." -- Paul Lappen, Reviewer
"When I read Jack Castleís Europa Journal, a smile kept coming on. What a joy to disappear with his people into his scenes; to wind through his ambiguities; to glimpse what just might be coming, only to discover a turn and a payoff thatís unexpected--and in prose thatís electrically fast! I said ďpeopleĒ on purpose: He doesnít offer characters; he acquaints us with real women and men, flesh and hearts and mind. Iíve taught and read literature at several colleges over the last 35 years, and edited no small number of works for various authors, and Iím sure this read is a harbinger of great adventures to come. Iím waiting now for his next book; I have an international flight coming that will be that much shorter once Iím lost in another of his worlds. Ad astra!" -- Dr. J.P. Waller, University of Alaska, former editor for former Vice-President Al Gore
"From the opening space shuttle crash landing to the stunning finish, Europa Journal is a real page turner. Ancient astronauts, the Bermuda triangle, WW II pilots, space shuttle crews --what else could you ask for? Mr. Castle keeps the story at light speed, with plenty of twists and turns before the awesome climax!" -- James Wahlman, Firefighter in Alaska
"Normally I go for fantasy books because I find the characters in science fiction too bizarre or to distant, but this is quite honestly is the best sci-fi book Iíve ever read. I like how the story starts off with a crew of totally believable astronauts and takes them into another world. With Star Trek and SG-1 stories you know the main characters are always going to make it back minus the red shirts, or equivalent. With Europa Journal it isnít long before you realize nobody is safe. It was all I could do not flip to the end and see if my favorite character, Leo, survives. Okay, I admit it, I peeked." -- Chad Bryant
"A big fan of Star Wars and SG-1 I decided to take a chance on the Europa Journal. For some reason I really wanted to dislike this book, but it was so fast paced that I finished it over the weekend. I fell in love with the characters, especially the female Commander and the Awumpai, and felt a real sense of loss when one of them died, (you know what you did Mr. Castle). I only gave it four out of five stars but keep in mind I would only give five stars to two other books and one of those is the Bible. In closing, Iím excited to read Mr. Castleís next book." -- Sarah Jameson
"With an action-packed opening, page-turning twists, a well-built world, and characters worth caring about, Europa Journal is like a bulldog - it grabbed me and wouldn't let go! It seamlessly blends breathtaking imagination with the gritty reality of survival, and beautifully blurs what has been with what might be. I love Dr. Who and grew up with Star Trek, but this book has broken the sci-fi mold in a wonderful way!" -- Stuntwoman, Elisa Brinton
"Europa Journal presents a new twist on your typical sci-fi story. From the "Cold Equations" feel in the first chapter to the exploration of ancient alien civilizations, Mr. Castle's story immerses the reader in a world of conspiracy, mystery, and nonstop suspense." -- Actress, Kathyrn Smith
---