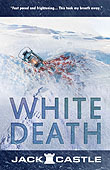 PREVIEW THE BOOK

GENRE:
Action & Adventure
Thriller
Suspense
Crime
Horror


---
KINDLE
KOBO
NOOK
i-TUNES
google PLAY

AMAZON.COM
AMAZON.CA

---

E-BOOK:
ISBN: 9781770531338
EPUB, MOBI
$5.99 US

Amazon Paperback:
ISBN: 9781770531345
Trade Paperback
5.5" X 8.5"
$19.95 US
236 pages


---
BISAC:
FIC028010
FIC030000
FIC031010
FIC002000
FIC015000


White Death
---
Ravenous Predator hunts Arctic Expedition
Coined by early explorers as the Atlantis of the North, the Arctic is a desolate, intense land colder than even Antarctica. Anthropologist Kate Foster accepts a job at an isolated research facility on a remote island surrounded by a vast ocean of crushing Pack Ice. Her scientific expedition becomes a mission of survival when she is joined by Detective Jack Decker with the Alaska Bureau of Investigations. Kate and Deckerís team of criminologists race against time to solve the gruesome and multiple homicides of her colleagues while someone, or something (thought to be extinct), is hunting them.
---
---
About the Author:
Jack Castle loves adventure. He has traveled the globe as a professional stuntman for stage, film, and television.†While working for Universal Studios, he met Cinderella at Walt Disney World and they were soon married.†After moving to Alaska, he worked as a tour guide, police officer, Criminal Justice professor, and certified weapons instructor.†He has been stationed on a remote island in the Aleutians as a Response Team Commander and his last job in the Arctic Circle was protecting engineers from ravenous polar bears. He has had several Alaska adventure stories published along with articles in international security periodicals.
His first novel, entitled Europa Journal, went all the way to #1 on Amazon's Best Seller List and The Spokesman Review called is second novel, Bedlam Lost, "A creeeeepy sci-fi thriller that brings back the terror of early Dean Koontz and the mystery of the first season of LOST!" White Death, was inspired by actual events while working in the Arctic.
Jack teaches literary workshops at local libraries and bookstores and is also available to speak/teach at festivals, conferences and book groups. [MORE]
---
OTHER BOOKS BY JACK CASTLE:
---
---
---
Reviews
"Definitely worth a read for fans of classic sci-fi!!!!" - Coeur DíAlene Press
"Another Winner from Jack Castle!Ē -Joe Butler, Spokesman Review
"Jack Castle's newest book, White Death is full of suspense and action. It takes the reader on a wonderfully frightening expedition in the Arctic. The book starts off with a Jaws type feel to it, (A group of people being hunted by a mysterious predator on the ice), which is exactly what I was hoping for. Just when you think the hunted expedition members might make it out alive the author surprises us again with a right turn right into a political espionage thriller worthy of Clive Cussler. I enjoyed reading this book immensely and recommend it to anyone." - Ryan Chidester
"I havenít liked a book this much since Jurassic Park! Mr. Castle wisely follows the architecture first outlined by Jaws and other notable giant creature features like Jurassic Park by keeping his creature largely unseen for the novel's first third, focusing instead on his human cast, which includes Kate Foster, a befuddled Anthropologist Totem Pole expert, and a quirky team of criminologists led by your classic hero type. The suspense really kicks up a notch when Kate and her friends are faced with the unbelievable choice of making a break for it across the deadly pack ice during a violent storm or holing up in the remote outpost and await rescue. Surprisingly, Mr. Castle doesn't sacrifice quality in pursuit of universal appeal, (the characters are not simply waiting around to be gobbled up), but instead he takes the time to build them up into full-bodied people, which adds up to a level of substance and sympathy for them in the story. I especially enjoyed the Afterword where the Author reveals his very real, near-death experience with a Polar Bear, (by the way itís not a polar bear in the book), while working in the Arctic at a remote oil field and explains a lot of the bookís inspiration." -Sara Jameson
---
Testimonials
"Where 'Close Encounters' stopped, Jack Castle pulls out the stops and takes readers into the unknown." -Joe Butler, Editor for Spokesman
"Jack Castle is the harbinger of great adventures to come!" -Dr. J.P. Waller, editor to Vice President Al Gore
"When Jack Castle delivers a new adventure he draws his readers in with creative story lines that unfold in realistic settings. The descriptive nature and action packed details of his stories are riveting and spell binding. Iím anxiously awaiting his next journey through the unknown." - Major Dennis Allen (Ret) and recipient of the Distinguished Flying Cross
"Iím not a sci-fi fan, but I read Mr. Castleís first book, Europa Journal, in one sitting, (I actually found the book on a seat at the airport on an unexpected layover). And I didnít think he could top his supernatural thriller, Bedlam Lost. But thatís exactly what he did with his latest book, White Death. This time around the story takes place at a remote facility in the Arctic. A team of criminologists are flown in to investigate a brutal massacre of scientists when something begins picking them off one-by-one. I havenít been this on the edge of my seat since watching the movie Jaws as a kid. Three different books, three different genres and the author managed to knock it out of the park every time!" - -Liz Garrick
"Chilling, both in terms of absolute terror and frigid conditions where the action takes place." - Spokesman Review
---