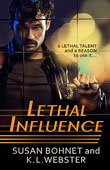 READ CHAPTER ONE

GENRE:
Science Fiction
Alien Contact
Suspense
Paranormal Romance


---
KINDLE
KOBO
NOOK
iTunes

Google PLAY

AMAZON.COM
AMAZON.CA (TBA)

---

E-BOOK:
ISBN: 9781770531277
EPUB, MOBI, PDF
$5.99 US
$5.99 CD


---
BISAC:
FIC028090
FIC027120
FIC030000


Lethal Influence
---
How far would you go
to protect those you love?
Unknown to humans, a friendly alien society lives among us. Kai, a young Trebladore male, has unusual abilities that are lethal to humans. Different factions of the Trebladore Society begin to vie for the use of his powers, and he discovers disturbing things about his species and their methods. When humans start dying and the woman he loves is in danger, Kai must make desperate choices. Choices that will change the future of mankind forever.
---
---
About the Authors:
Susan Bohnet has an Associate Degree in Arts and Letters with a major in psychology from Ricks College, and a Bachelor of Science degree with a major in Human Resource Development from Brigham Young University. She lives in Alberta with her husband, five children, and a cute (but rather naughty) Yorkshire terrier. She is the author of the young adult novels My Life as a Troll and Mosaic, has written a newspaper column called Family Frenzi for 18 years, and has had two short stories published. Lethal Influence is her first novel for adults.
K L Webster has a Bachelor of Arts Degree from the University of Calgary majoring in History with an English minor. She lives on an acreage in Alberta, Canada with her husband, three daughters, three horses, eleven cats and one crazy dog. Lethal Influence is her first collaboration attempt.
---